CAN-tastic new Italia wines!
Bringing you some Italian classics in a shiny new format

As demand for wine in cans has been steadily growing, our friends at Araldica have only gone and installed a canning line… enabling us to bring you some Italian classics in this shiny new format.
The first batch, hot off the press, filled and now landed in the UK are under Adria Vini's 'Italia' label – a Pinot Grigio, Pinot Grigio Rosé and Moscato.
All three wines are IGT Provincia di Pavia and 2021 vintage, 25cl cans packaged in cases of 24 – these are ideal single-serves, incredibly convenient, taste great, and are competitively-priced to boot. Suitable for vegans too.
Pinot Grigio and Pinot Grigio Rosé need no real explanation, these still wines are firm favourites: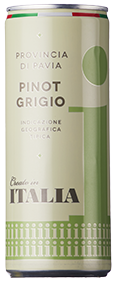 Italia Pinot Grigio (85% Pinot Grigio, 15% Chardonnay) – a crisp and refreshing white, the inclusion of 15% Chardonnay grapes gives a boost of zesty citrus characters to the lightly honeyed fruit. 
Italia Pinot Grigio Rosé (85% Pinot Grigio, 11% Barbera, 4% Pinot Nero) – the Pinot Grigio grapes are crushed together with a portion of Barbera and Pinot Nero to give an attractive pale pink colour. A dry, fresh and fruity rosé with delicate red berry characters.
Meanwhile, one to watch is Italia Moscato (100% Moscato Bianco) – we think you'll be delighted by this lightly sparkling and really more-ish white – bright and appealing with sweet and juicy ripe peachy fruit, and a delicate fizz, balanced by lovely citrus acidity.
At only 5% alcohol it's perfect for those looking for lower alcohol options, or prefer a wine with a slightly sweeter profile (115g/l residual sugar).
These are wines for any occasion – to enjoy as a single serve! Convenient, light and quick to chill.
If you need any further persuasion, you'd also be doing your bit for the environment. The cans are made from 100% recyclable aluminium, and wine transportation in can is better for the environment (data shows a typical truck can carry 2.5 times more wine in can, helping to reduce CO2 emissions in the supply chain).
Now available to order – what are you waiting for?!